Mexican Trifecta Uses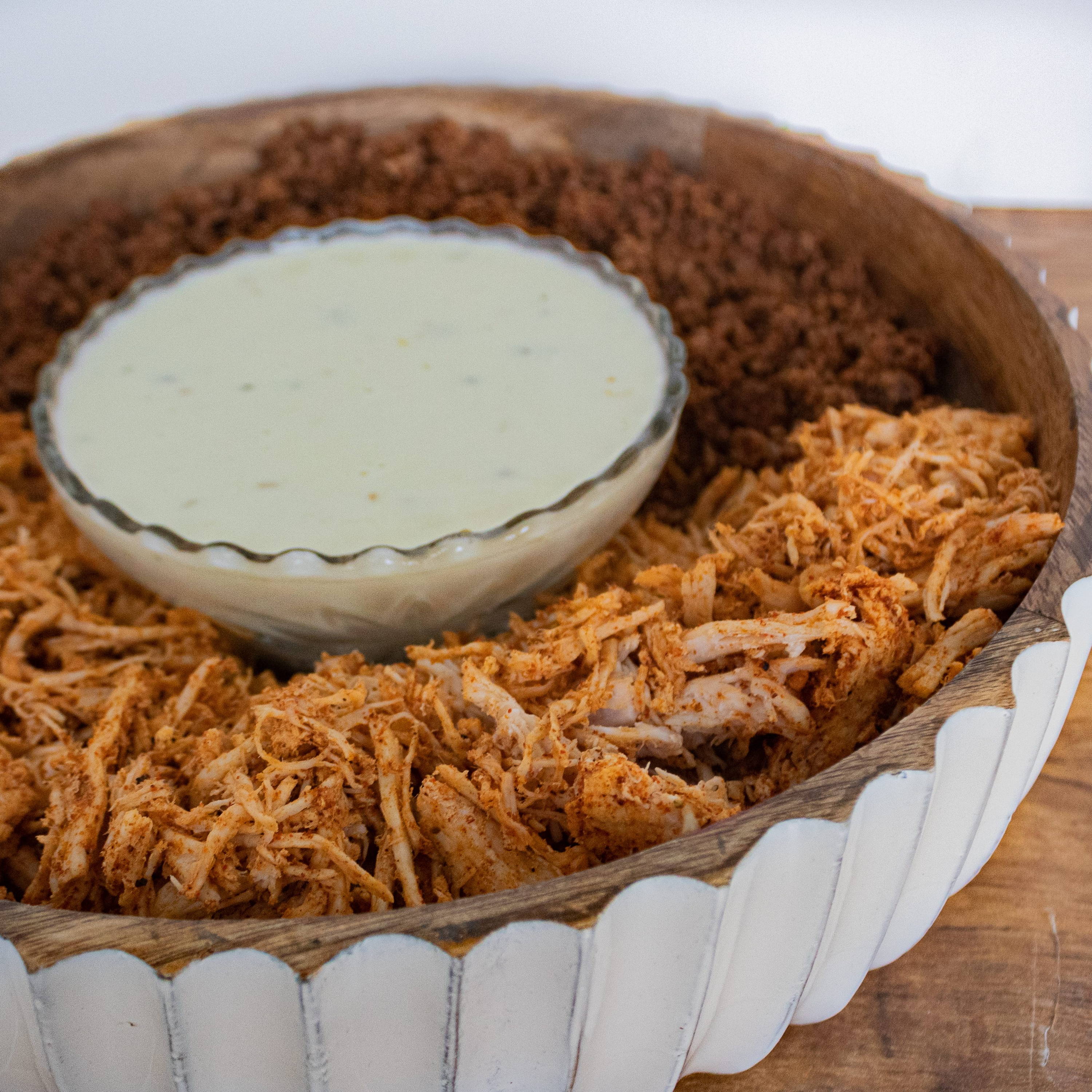 Whether you are serving up a weekly taco Tuesday or you pull out the chips and queso any day of the week, nachos, tacos, burritos, and enchiladas make a great meal that each member of your family can customize!
This blog post highlights the many uses of our Mexican Trifecta! A stash of cooked beef and chicken is perfect for the recipes you find on Pinterest, and a guaranteed supply of queso will make you your family's Taco Belle!
The chicken is cooked in the Instapot until it is impossibly tender and saturated with the flavor of the broth it creates. The beef is also pre-cooked and seasoned, so you can pull it from the fridge or freezer and begin creating.

Start by deciding what menu you will serve! A simple taco bar is fun and easy, but pre-building and baking a pan of nachos could reduce some of the serving mess! At the end of this article, you can find the ingredient lists to use our trifecta to make a taco bar, taco salad, nachos, and loaded baked potatoes!
Next, you will want to decide whether to add more seasoning to your meat! It comes to you with a homemade taco seasoning that includes chili powder, paprika, oregano, cumin, salt, pepper, granulated onion, granulated and garlic. You can serve it as is or, you can add red pepper flakes or your favorite hot sauce to spice yours up! Additionally, mix in picante, Rotel, or mild chunky salsa to change the texture.
Now that your meat is ready, it is time for the queso! Make sure the queso is thawed, then cut the corner of the bag and squeeze it into a microwave-safe bowl. Heat the queso for 30-45-second intervals, stirring in between. We don't recommend heating your queso on the stove as it scorches easily.
Once your queso is heated, you can serve a super easy dinner! Check out the ideas below, then head to the Order Now tab to grab a trifecta for your freezer.
Mexican Trifecta

Salsa in a few different flavors

Chopped iceberg lettuce

Guacamole

Sour cream

Shredded cheese for topping

Lime Wedges

Refried Beans

Mexican Rice
Mexican Trifecta

Tortilla Chips

GBM Mexican Street Corn

Black Beans

Shredded Cheddar Cheese

Pico de

Gallo

Crema or Sour Cream
Mexican Trifecta
Romaine Lettuce chopped for a salad
Fresh diced tomatoes
Mango Salsa (Sam's usually has a version we love, but you can make homemade!)
Fresh sliced avocado
Chopped Red Onions
Cotija Cheese
Fresh Corn sliced off the cobb
Fresh Cilantro or Parsley
Avocado or Chipotle Ranch
Mexican Trifecta
Baked Potatoes
Butter
Sour Cream
Chopped Green Onions