Our Kitchen Must Haves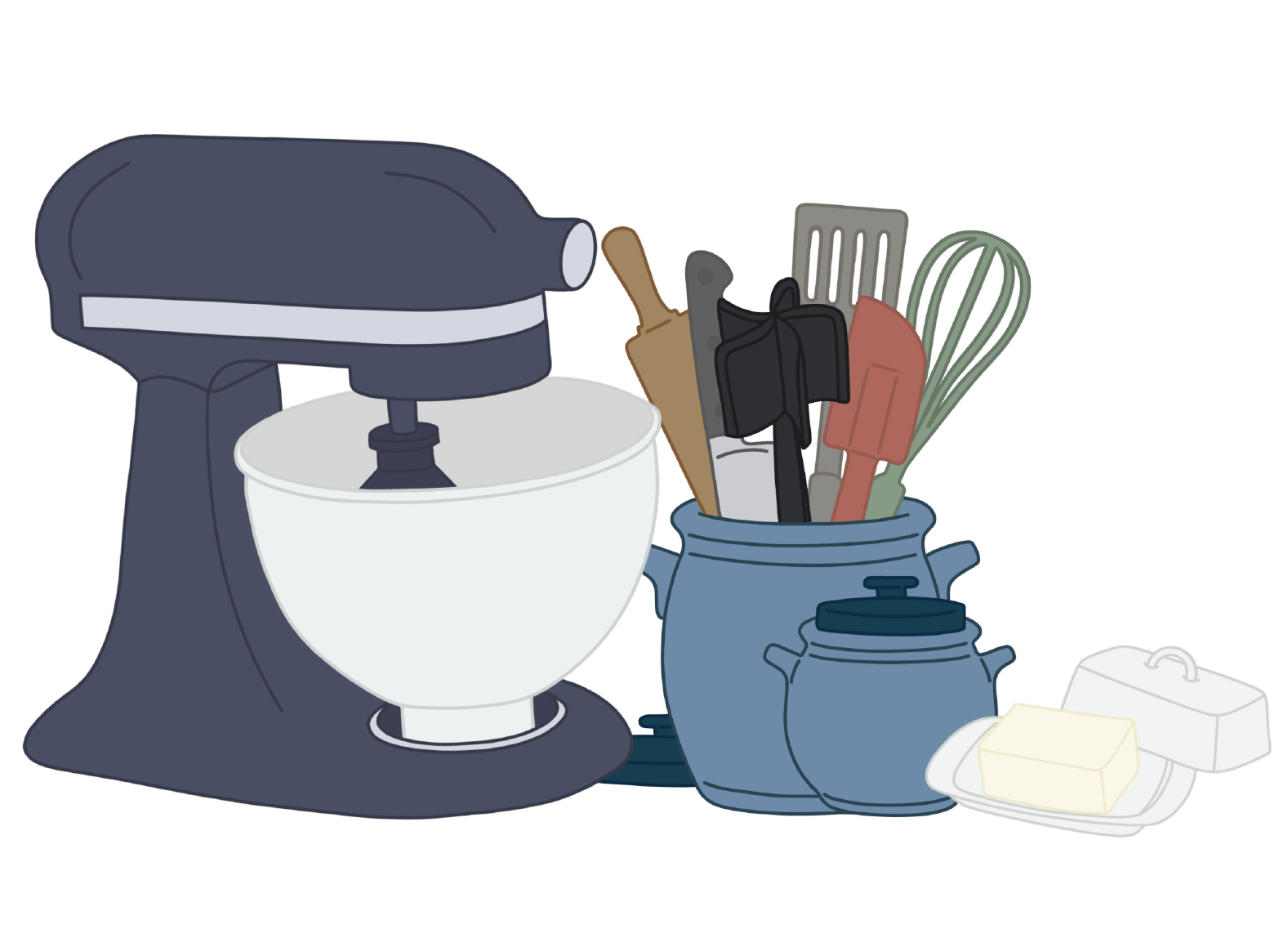 Kitchen items we actually use and recommend
Mix & Chop Pinwheel Utensil
So many people say they have no idea what this item is for, but it is a game-changer! This bad boy comes in handy for cooking any ground meat, and we hold it close to our hearts as we cook 150 lbs of beef each week! Pampered Chef can be pricey for some items, but their utensils are worth the extra dime and hands down better than other brands we have purchased. A few other utensils we have found are worth it, including their spatula, scrapers (rubber spatula), and cookie scoops. We keep a variety of cookie scoops on hand for many other purposes. They work great for muffin mix, pancake mix, mashed potatoes, and scooping crab cakes, to name a few. The products we purchased from here have lasted over a decade, even in our commercial kitchen.
Our Favorite Spoon
When mixing large pots of soup, your palm will thank you for a comfy and functional spoon. We use it for basically everything in our kitchen, and there's no better way to motivate dishes to be washed than for all the good spoons to be dirty!
The long handle is convenient and keeps it from falling into most bowls. It's also safe for non-stick pots and heat resistant. You can grab it on Amazon and see for yourself!
Butter Dish
Maybe your family is super cool and always puts the butter lid back on the dish, but ours isn't (sorry, guys), and we needed a change! We use the Butterie Flip Top butter dish, but several designs and brands are available with a simple Google search! It has the lid attached on a swivel for easy closure. The dish also has a matching butter knife, which we lost ages ago. We wish you better luck!
Mini spatulas

We bought these mini spatulas four years ago, and they are still our first choice in the kitchen for smearing ricotta, scooping burrito mix, and spreading queso on enchiladas. Two overpriced name-brand mini spatulas appeared, but they went untouched in the spatula bucket until desperate times. This set is perfect for many kitchen tasks, plus the size and fun colors make them appealing to little kitchen helpers!
Three great knives that don't break the bank
There are a few knives in the kitchen that we fight over, and by we, I mean Anna Catherine won't cut veggies until she has her "baby." (The writer of this article definitely isn't her, though).
Some of them cost a fortune, but we've been through enough knives to know the ones that don't cost a fortune but still make the cut when it is time to slice up the veggies.
The first is our Rada Chef knife. Most people shy away from a long knife; without some knowledge, that can be a good idea. But once you find yourself comfortable with a chef's knife, you will realize it is life-changing for kitchen chopping! Do yourself a favor and watch a short YouTube tutorial on proper knife technique, then start chopping!
The second is our Rada paring knife. It's small, straightforward, and always there in a pinch.
The third is our Rada tomato knife. Before you buy this, equip yourself with the essentials- the chef and paring knives. Once you have those, buy this tomato knife. It makes a huge difference! But if you don't eat tomatoes, you don't need this knife, no matter how amazing it may be. 😊
Breakfast sandwich maker
While we don't use this item as much as we should, one of our favorite small kitchen appliances is our breakfast sandwich maker. Using an English muffin or bagel as your base, you drop in a raw egg and cooked meat and cheese of your choice and then wait 4 minutes for a picture-perfect sandwich. It is available as a single or double maker! If you don't want the whole sandwich, use the section to fry an egg instantly!
Mixer
This one may have to wait for your Christmas list, but we love our KitchenAid mixers and use them constantly. While we have a few at the shop, Elizabeth and Anna Catherine each have one at home! They are incredibly versatile and make many kitchen tasks a breeze, plus cleaning them is super easy. But these pricey beauties aren't meant to be countertop décor, so if you plan on buying all your baked goods from us anyways, we recommend staying away!