Quesadilla Time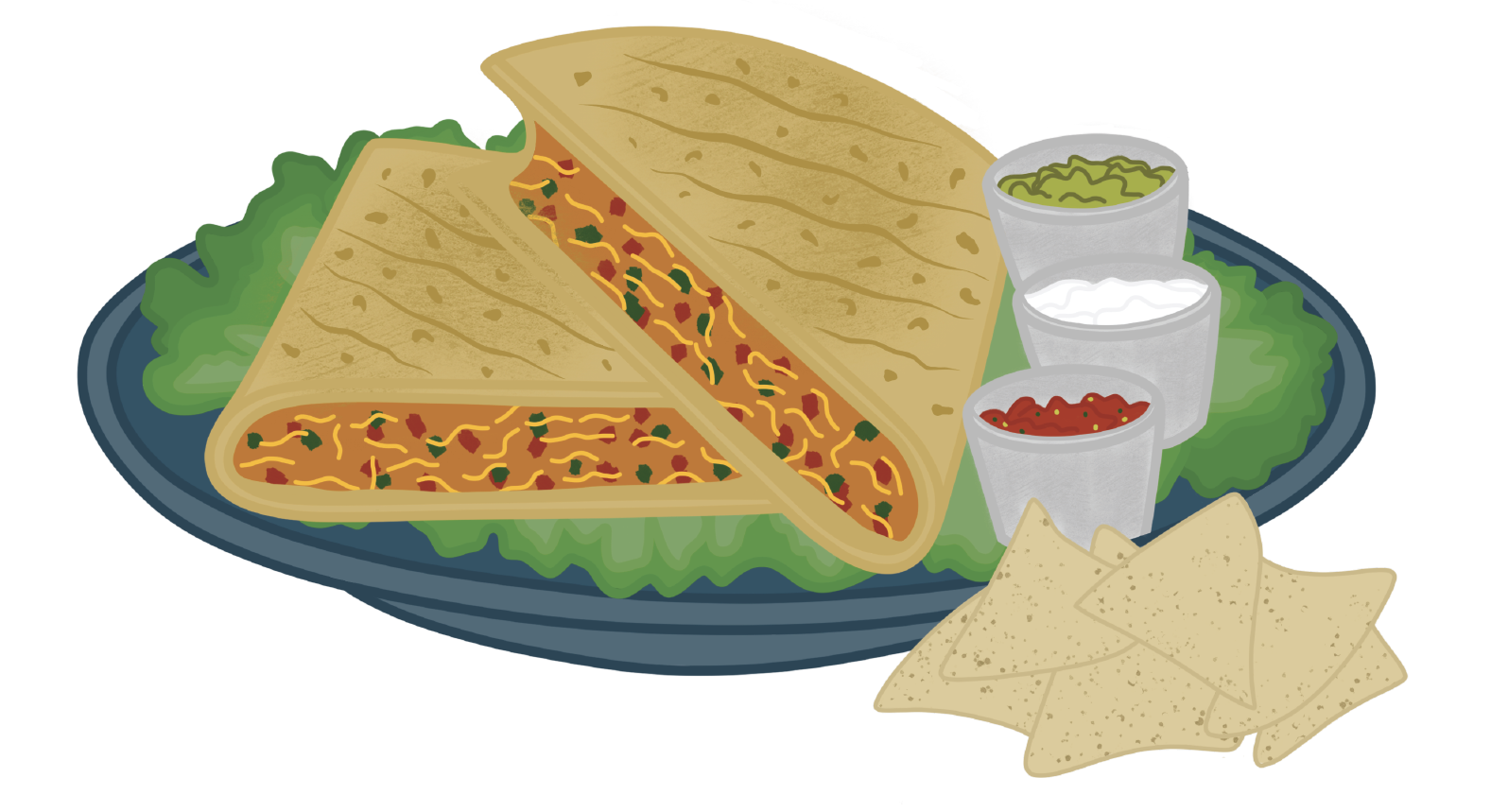 Keeping up with the dinner demand can be a lot, especially when you are in the kitchen cooking up meal number three! Quesadillas are an easy way to serve a quick, effortless meal or snack for your hungry roommates! This blog post includes some of our favorite ways to serve them, plus our favorite fillings!
If you haven't done it in a while, quesadillas are super easy to make! You'll need butter, tortillas, cheese, and fillings. Using a skillet or pancake griddle on medium heat, place a buttered tortilla buttered side down. You can prepare it in two ways, depending on how much food you need.
First, use one tortilla, fill half with cheese and toppings, then fold it in half. The second way is to use two whole tortillas. Place the first tortilla in the skillet and cover it entirely with cheese and toppings. After it is covered, place a second tortilla on top of it, buttered side up.
Letting the tortilla become golden brown before flipping is important, but it is even more important that the cheese is melted. If it is not melted, the cheese and toppings will all fall out when you attempt to flip the quesadilla. If your skillet's heat is too high, the tortilla will burn before the cheese melts.
Okay- now that you know how to make a quesadilla, let's talk about what to put in it!
We will have two categories- fillings and toppings. You put fillings inside the quesadilla, and toppings are for serving on top of them!
THE CLASSIC
Fillings: Cheddar Cheese, Bacon or Sausage Crumbles, Scrambled Eggs
Toppings: Chunky Salsa, Sour Cream, Green Onions
THE SOUTHWEST
Fillings: Black beans, Cheese, Sauteed Peppers and Onions, Crumbled Bacon
Toppings: Fried eggs, Fresh Diced Tomatoes, Salt and Pepper
THE SWEET TOOTH
Fillings: Blueberry Cream cheese, Fresh Blueberries
Toppings: Powdered Sugar, Cream cheese, Diced Strawberries
THE CHICKEN BBQ
Fillings: Monterey Jack Cheese, Shredded Leftover Chicken, BBQ sauce (or your fave sauce), Sauteed Onions
Toppings: BBQ sauce, Sour Cream, Cilantro
THE PIZZA
Fillings: Pizza or Spaghetti Sauce, Mozzarella Cheese, Pizza Toppings
Toppings: Sauce for dipping, Parmesan Cheese
THE HAWAIIAN
Fillings: Cheddar Cheese, Diced Ham, Fresh Pineapple, Sauteed Onions
Toppings: Sweet or Tangy dipping sauce
THE SHRIMP
Fillings: Cheese of your choice, Small or Diced Cooked Shrimp, Fresh Corn, Roasted Red Peppers , Sauteed Mushrooms
Toppings: Firecracker or Bang Bang Sauce, Shredded Cabbage
THE STEAK
Fillings: Leftover Steak Sliced Thinly, Sauteed Pepper and Onion Strips, Shredded Mexican Cheese Blend
Toppings: Diced Tomatoes or Fresh Salsa, Sour Cream,
THE PORK
Fillings: Gouda Cheese, Shredded pork without any sauce, Mango Salsa or Chutney, Sauteed Peppers and onions
Toppings: Crema, Mango Salsa or Chutney