Strawberry Pretzel Salad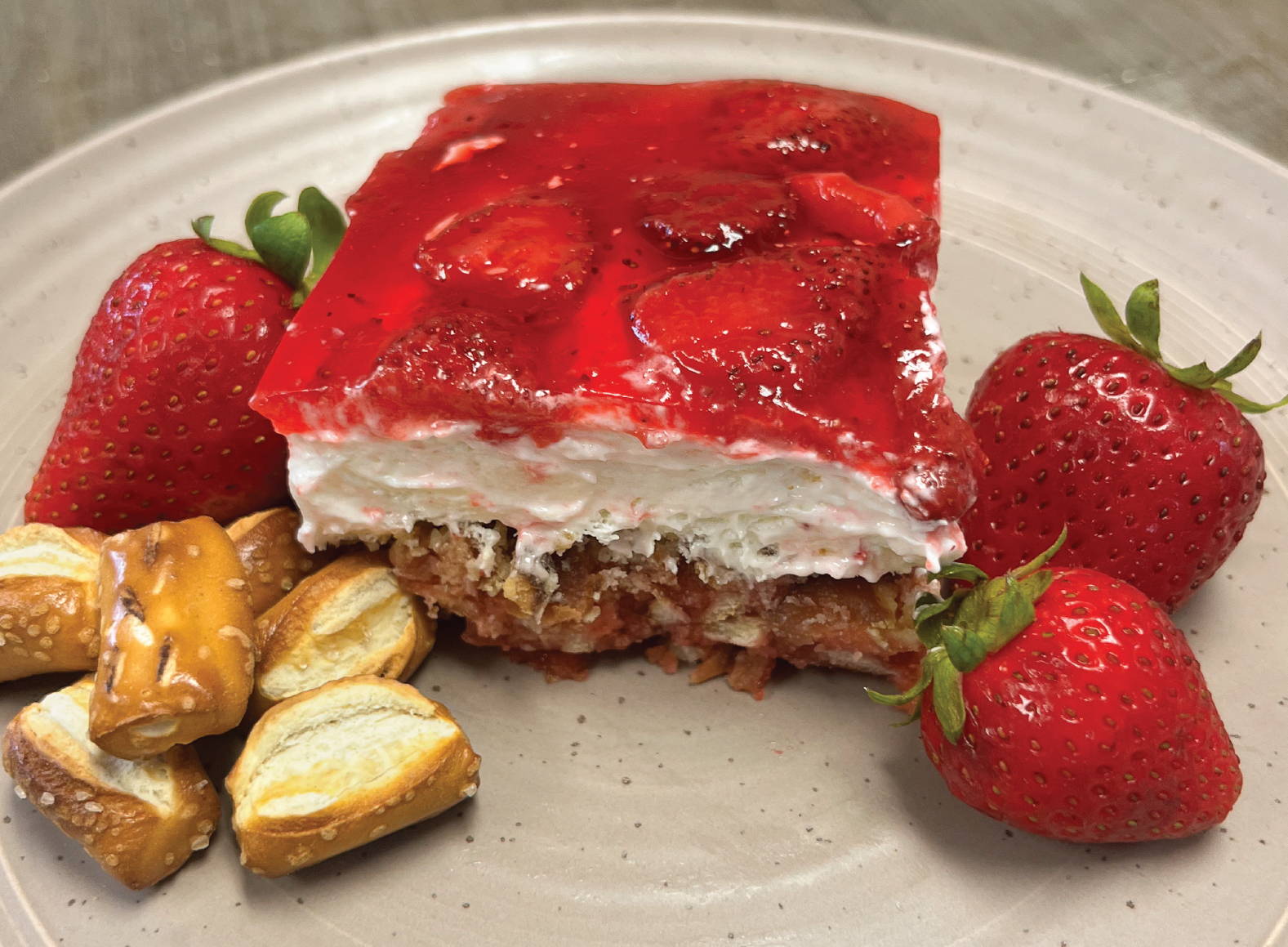 Strawberry Pretzel Salad begins with a base of crushed pretzels and butter baked briefly. After that, you smear on a mixture of cream cheese and cool whip. Finally, you top it with a delicious strawberry Jello mixture. This layer can be made equally well with fresh or frozen strawberries so you can make it any time of year!
While the name is slightly deceitful, as this dish is layered like a lasagna, not stirred or mixed like a salad, you can't imagine how wonderful such a combination could be. When you think of this dish, think of a sweet, fantastic, refreshing dessert with a salty base, much like our Frozen Coconut Cream Cake that appears on the menu occasionally!
You can count on Elizabeth's mom to bring strawberry pretzel salad to a party, so it's no surprise that it finally made its way to the blog! If you have never had it, it is a unique item to add to your party-throwing, potluck-going, entertaining repertoire!
2 C. Crushed Pretzels
3 T. Sugar
3/4 C. Melted Butter
8oz. Cream Cheese
1 C. Sugar
9oz. Cool Whip
1 (6oz.) Strawberry Jello
2 C. Boiling Water
1 pint Frozen or Fresh Strawberries
Mix together 1.5 C crushed pretzels, 3 T. sugar, and 3/4 C melted butter (you can add more butter if it seems dry).
Spread mixture in bottom of 9x13 pan.
Bake at 400F for 8-10 minutes, and let cool.
Beat together cream cheese and 1c of sugar.
Fold in the cool whip.
Spread this over the cooled pretzel crust.
Mix strawberry jello and boiling water, then cool for a few minutes.
Add crushed strawberries and let mixture set up into a jello consistency.
Pour this mixture over the middle layer.
Spread 1/2 C of finely crushed pretzels on top.
Cool until firm, and keep refrigerated.