Breakfast From Dinner
MAKING BREAKFAST FROM LEFTOVERS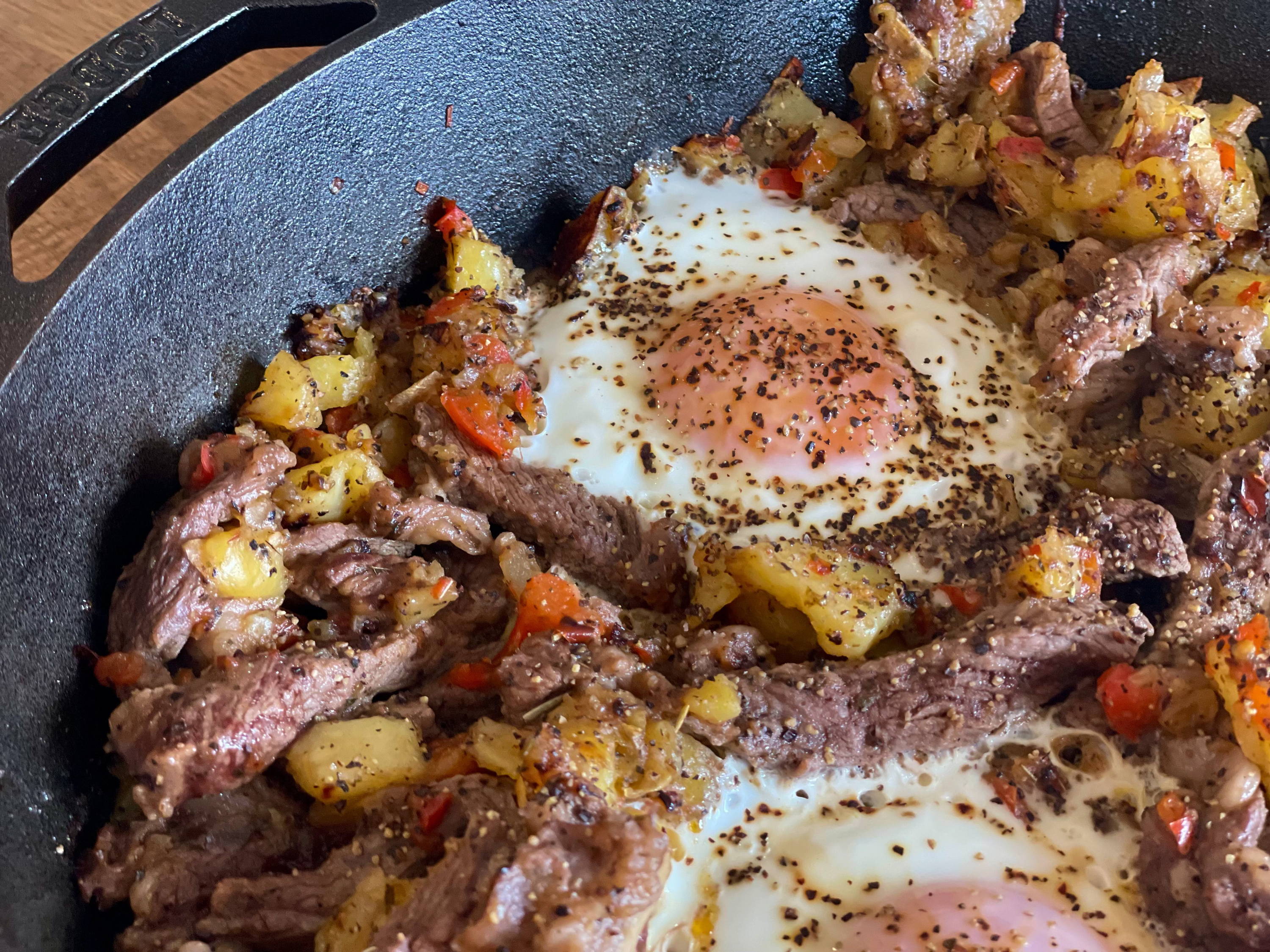 Maybe you aren't a big breakfast eater. Maybe you despise cooking in the morning. Maybe this blog post with change your mind. Grab your coffee and sit tight, you are about to be hungry!
When Friday night rolls around, treat your family to a steak and potato dinner. Season the steak your favorite way, and cook it how you always do. Make your lovely potatoes however your family likes them best, whether that's mashed, fried, or baked - even roasted sweet potatoes will work. The only thing you have to do differently is make sure you have leftovers! Now, stash it all away in the fridge and sleep tight, when the sun rises tomorrow morning, you are going to rock the world by using your leftover dinner for a show stopping, savory breakfast.
LEFTOVER BREAKFAST SKILLET
Leftover steak, sliced in ¼-½ inch wide strips
Additional steak seasoning from the first time you made it
Leftover potatoes: cubed baked potatoes, fried potatoes, GBM seasoned baked potatoes cut up, or savory sweet potato chunks
½ medium onion, diced
½ pepper, any color, diced
Optional: sliced mushrooms
3-4 eggs, depending on amount of leftovers and the size of your skillet
1 stick of butter, divided
Salt
Pepper
First, turn on medium heat and allow your skillet to heat up. Add 2 tablespoons of butter and your pepper and onion and sauté for 5-8 minutes. If you like mushrooms, toss them in too. Use a cast iron skillet, if available.

While veggies cook, pre-heat oven to 375-degrees if using an oven safe skillet. If not, don't worry!

Next, add 2 more tablespoons of butter and leftover potatoes (if using mashed potatoes, skip this step for now).

Add leftover sliced steak. Season entire skillet with the same steak seasoning you used the day before. If you are bringing leftovers from takeout, any complimentary steak seasoning will work.

Let the mixture sizzle on medium heat for 4-5 minutes.

Make 3-4 egg sized wells in your skillet and put butter in each spot.

Drop eggs into each well.

Season eggs with salt and pepper to taste.

If using cast iron or another oven safe skillet, place skillet in a 375-degree oven for 5-10 minutes, depending on how you like your eggs. If you are not using an oven safe skillet, allow eggs to cook on the stovetop.

Serve the full skillet on the table with a spatula and watch everyone dig in! .



2 cups of mashed potatoes
¾ cup all purpose flour
1 egg
½ onion sautéed or 1 teaspoon of onion powder
½ teaspoon of salt
½-1 teaspoon of pepper depending on taste
Butter for skillet
Mix all ingredients in a bowl, reserving butter for skillet
Heat skillet and drop butter in.
Spoon potato mixture into skillet and allow to get brown/golden before attempting to flip- about 2-4 minutes, depending on skillet. (This is super important if you don't want a mess!)
Allow to cook on the other side, just like a pancake. Serve hot with your steak and egg skillet!