Chicken Marsala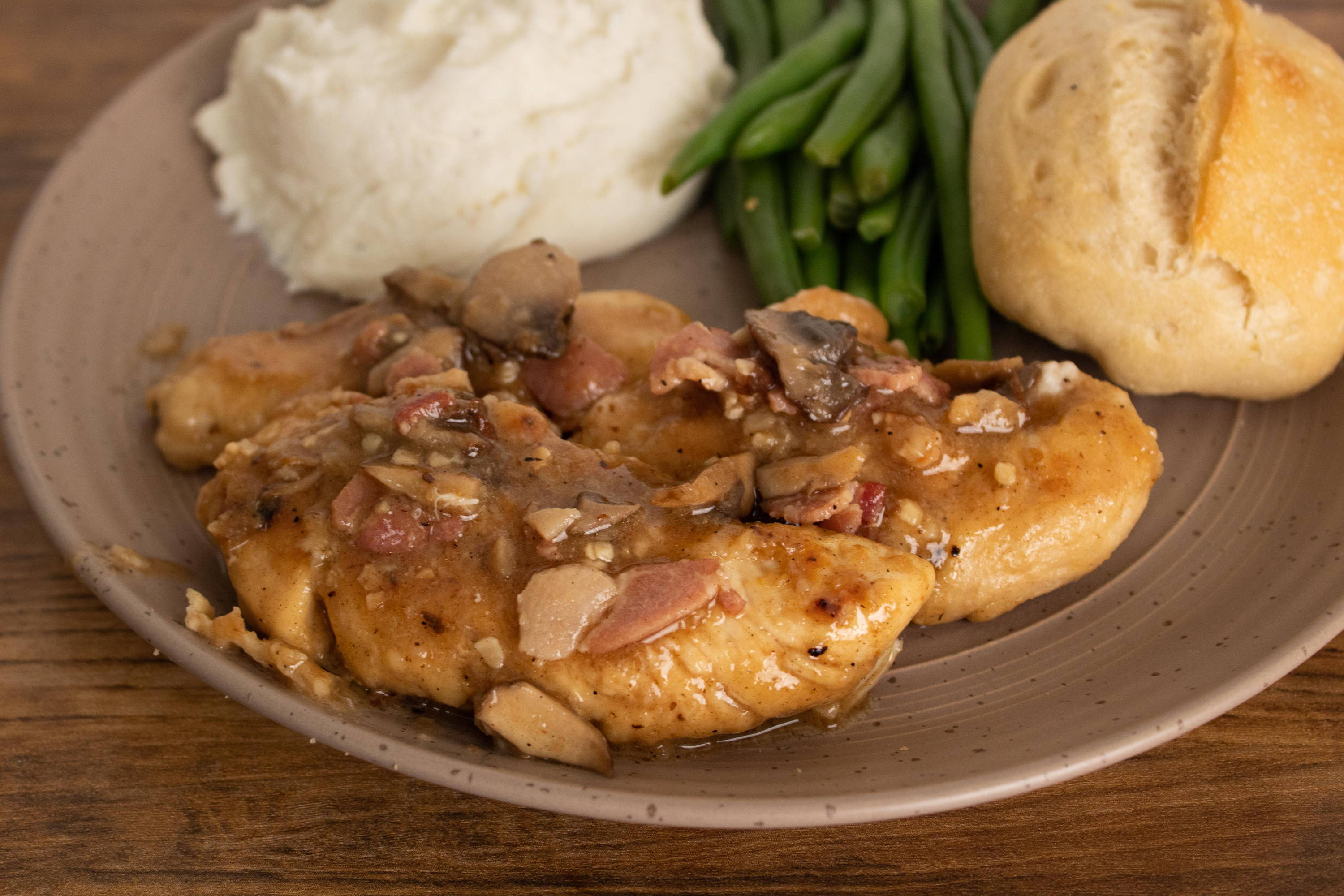 Nothing extra and exciting to say here, just excited to share our very yummy chicken marsala recipe. This unique and yummy flavoring on the chicken makes for a delicious dinner! You can serve this over angel hair pasta or mashed potatoes.
(Yields 6 servings)
2.5 lbs. of raw chicken tenders (breasts work here too, but tenders are much easier to pan fry and stay more tender.)
8 oz. Sliced mushrooms
8 Slices of raw bacon
1 ½ cups of all-purpose flour
1 teaspoon cracked pepper
1 ½ teaspoons of salt
1 ½ teaspoons of granulated garlic
3/4 cup marsala wine
1 ¼ cup of chicken broth
1 tablespoon of minced garlic (in water or freshly chopped)
4 tablespoons of butter, divided
Rinse and chop your mushrooms down to your desired size. Hint: The smaller you chop, the least likely your crew is to notice them!




Set mushrooms aside in a bowl and chop raw bacon. Combine bacon with mushrooms.




In a separate bowl, combine flour, pepper, salt, and granulated garlic.




Using your hands or a ziploc bag, coat raw chicken with flour mixture. (note: if using chicken breasts, pound them down so that they are not too thick.)




Heat large skillet on stove on medium to high heat.




Drop 3 tablespoons of butter into skillet.




Pan fry chicken in skillet until no longer pink. Be careful not to overcook each tender. The chicken will return to the skillet to simmer at a later time.




Once done, set chicken aside on a clean plate.




Using the same skillet, drop in the last tablespoon of butter. Put mushrooms, bacon, and minced garlic in skillet and sauté.




Once mushrooms are no longer producing water and bacon has cooked, (the bacon will not become crispy) add chicken, marsala wine, and chicken broth into skillet.




Allow all ingredients to simmer for 12-15 minutes. The sauce will thicken slightly due to the flour coating still on the chicken.




Once sauce has thickened, your dish is complete. Serve with mashed potatoes or angel hair pasta.