Easter Menu Ideas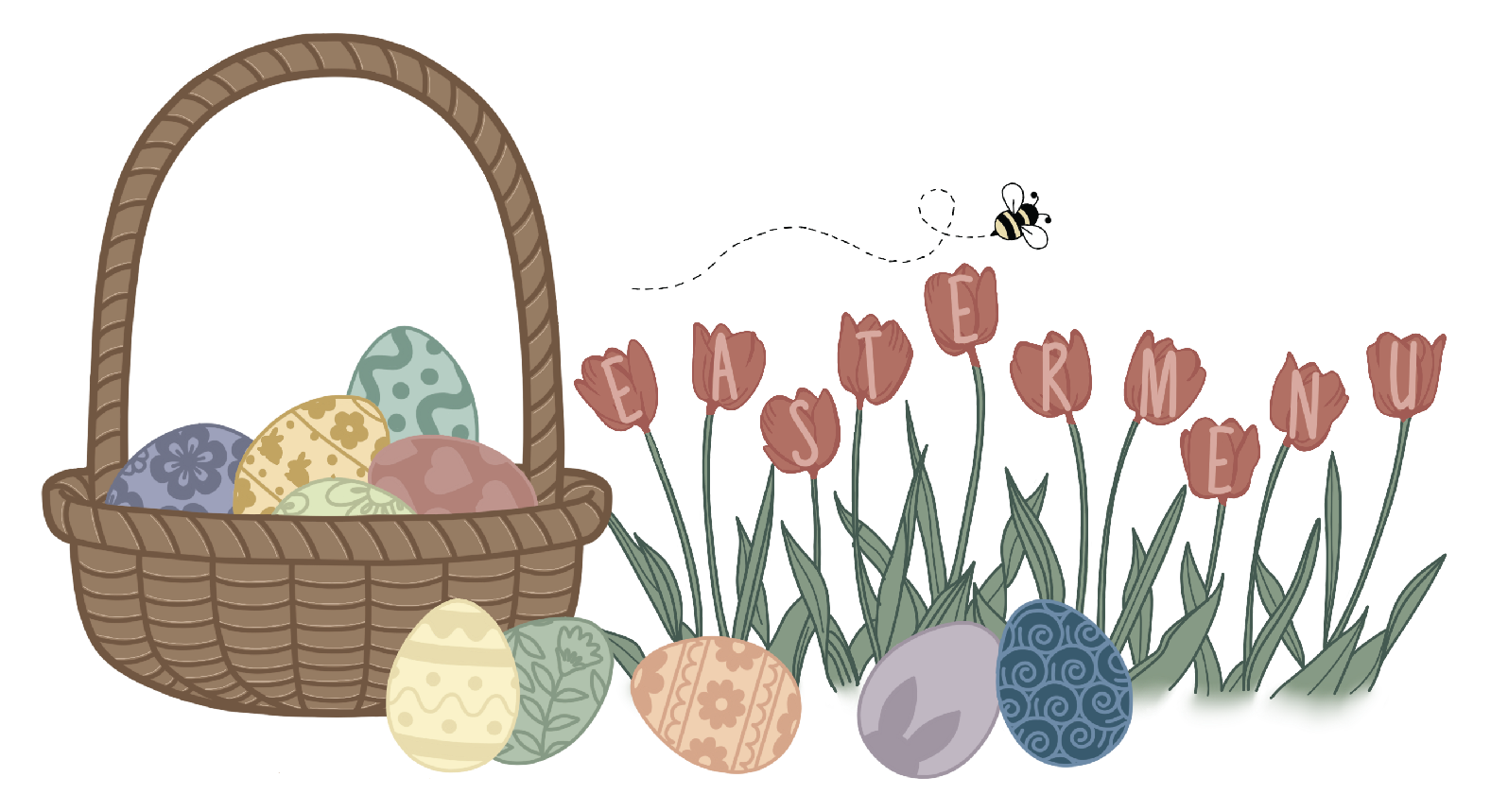 Are you an egg-hunting, bunny-chasing, pastel-wearing festive Easter family? Do you prefer to keep it chill and enjoy Cadbury eggs while looking out at the tulips? Is your home full of grown-up guests, or are you rushing tiny high-heal-clad girls and button-up boys into the car to make it on time- just once?

No matter where you find yourself, an Easter lunch menu is in order. Below, we outlined potential menus! Some of these items are available on our website. Order them before Monday, April 3rd, and we will deliver them to your front door! For the ones we don't offer, dig out your favorite recipe and make a grocery list; your time to shine is coming!
Fresh Green beans- From the produce section, steam in

the bag with lots of butter, salt, and pepper.
***Why choose this one? This is similar to one of our best-selling catering menus. So if thousands of wedding guests eat it this year, you should too!
Menu 2 – heavy hors d'oeuvres
Sandwich of your choice – Sliders make a great casual option that pleases all ages, but you can change it up with chicken salad croissants, pimento cheese sandwiches, cucumber sandwiches, or grilled cheese quarters.
A dip or two- Spinach Artichoke Dip is a good option, but buffalo chicken dip or cheese dip would also be marvelous.
Fruit, veggies, cheese, and meat arranged charcuterie style.
Meatballs, sausage balls, or stuffed mushrooms
This blog post contains 5 great recipes for an appetizer party.
***Why choose this one? It has potential to offer a multitude of flavors. Additionally, it is easy to pre-make charcuterie boards for snacking while you finish up the other items. If an easter egg hunt is in order, everyone can snack before and after!
Full Ham or Turkey
Potato of your choice- Mashed potatoes are classic, but you could change it with Hasselback, roasted red, or our Seasoned Baby Baked Potatoes.
Something Green – if you have a stash of grandma's canned green beans, bring them out! If not, grab some fresh ones or try something like asparagus or GBM Cranberry Pecan Brussel Sprouts.
A Casserole- duh! (Vegetable casserole, broccoli casserole, green bean casserole, pineapple casserole... You know, anything with buttery crackers on top.)
***Why choose this one? It will make your mother proud and look magazine quality on your buffet. Everyone will be pleased with your timeless choice.
White rice
Sautéed Broccoli or Zucchini and Yellow Squash with soy and butter
Spring Rolls in the air fryer
***Why choose this one? Mongolian Beef has a familiar Asian flair without being overwhelming- so you can still convince your picky eaters to engage. In addition, everyone is used to having the same menu during holidays; you can pleasantly surprise them with this unique option.
Quiche or egg dish of your choice
Sausage balls- you will want to cut back on frying grease, so avoid patties.
Bacon-made in the air fryer or oven
Biscuits, pancakes, or waffles- offer fun toppings no matter the choice! Gravy and jam for biscuits or chocolate chips, blueberries, and whip cream for the other.
Fresh fruit- arranged charcuterie style
Something sweet- French toast casserole, cinnamon rolls, or our Pecan French Toasties
***Why choose this menu? Even if your meal isn't served until noon, breakfast is fun and versatile. While it is warming up at Easter, it can still be a little cool, so a hot cup of coffee with a cinnamon roll will hit just right.